There is one skill that we definitely lack at shepandkyles design; despite heroic effort and perseverance we simply don't possess the requisite magic. We have tried for years and will still continue to do so, but the results remain distinctly underwhelming. This skill is photography.
We can spend over 3 years working on all the myriad details of a chalet design and build, solve architectural and construction conundrums and produce bespoke designs throughout, yet at the end of the day we simply can't record our endeavours in any way that represents our work beautifully and effectively. As a design company, although we have fabulous clients that let us in and out of their finished chalets, and even more delightfully let us take new clients around the properties, we still need a record of our projects and the ability to showcase them in our portfolio, on our website and in the world of social media. Fortunately, we are extremely fortunate – we can call on Neil!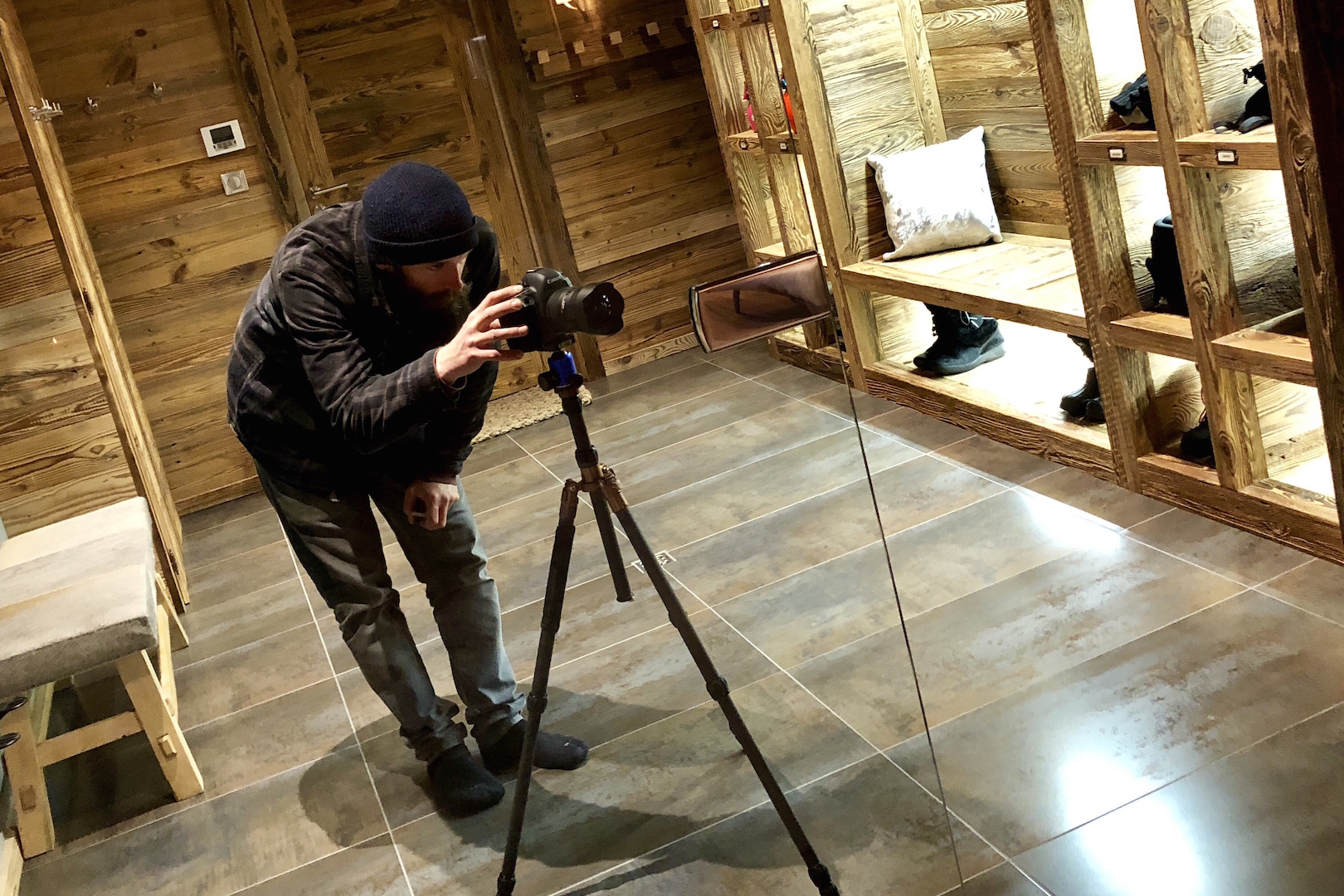 To me, photography is a unobtainable, mystical art. One can learn so much in terms of composition and technique, but at the end of the day you need the creative eye – the ability to see the spaces differently, to pick out key elements and to understand how this can translate through the the medium of the camera's lens. You also seem to need the requisite level of fitness to lug the cameras, tripods, lenses and assorted paraphernalia around a property without flagging – or losing a lens cap along the way!
I have been working with Neil Sharp for nearly 10 years now. He understands my requirements in the photography of our projects and never ceases to amaze me. I may think I know all elements of a project, have stared at every room, every detail and every accessory from all angles, and when he sends me his first set of images from a project he can still surprise and delight me. Calmly, quietly and unobtrusively he captures the soul of what we do, and not only documents the rooms, but the spirit and essence of the project – be it voluptuous or quirky, contemporary or rustic.
My favourite moment is after scrolling through the majority of photos, he has a final section of (often slightly surreal) detail photos – reflections from metallic objects or the geometric lines of bathroom tiling. The photos give me the gift of looking at a project from a fresh perspective, which in turn sparks creativity.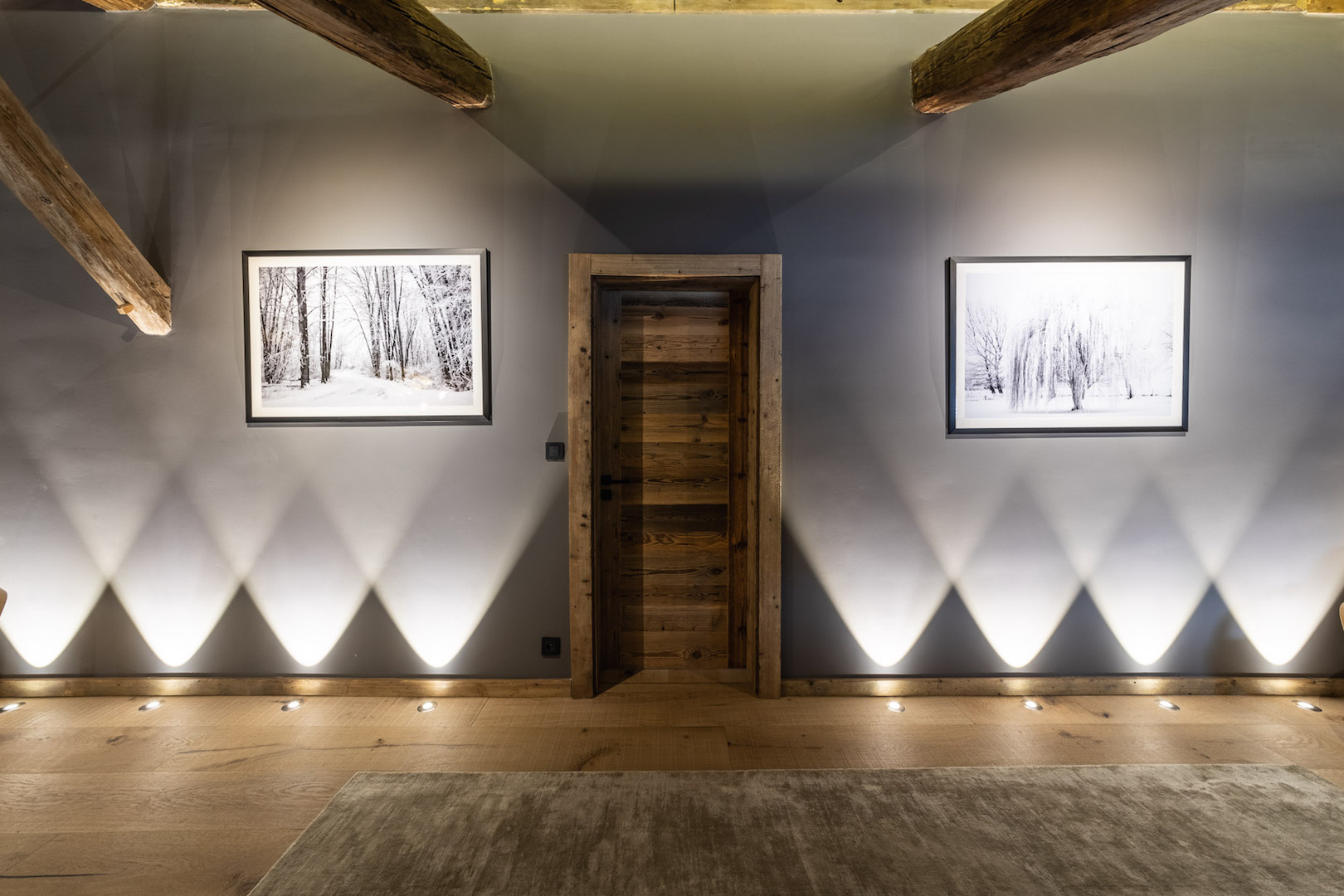 On a recent project I was given the opportunity to indulge. We were working on a chalet project with a 10 metre subterranean corridor between the boot room and the main part of the chalet. Hervé the architect and I had come up with a dozen design concepts for this space, but nothing had seemed quite right. Our client wanted simple, clean lines and nothing too fussy, yet as a space that would be used frequently (every day before and after skiing) it needed to be special.
Into this conundrum came the desire to showcase the incredible beauty of the region, and specifically our little corner of the Alps. Although I have worked with Neil for a very long time, I am also friends with some other exceptional, equally talented photographers, who like him photograph both interiors and the beautiful mountain landscape. This led to the idea of turning the corridor into a photography art gallery – showcasing the area and the creative talents that live and work here, whilst using multiple lighting techniques to give interest, texture and drama – to create a linear gallery as opposed to a functional passageway. We were also able to use the underground space to our advantage as we could completely control the illumination in the room, and direct it towards the artwork.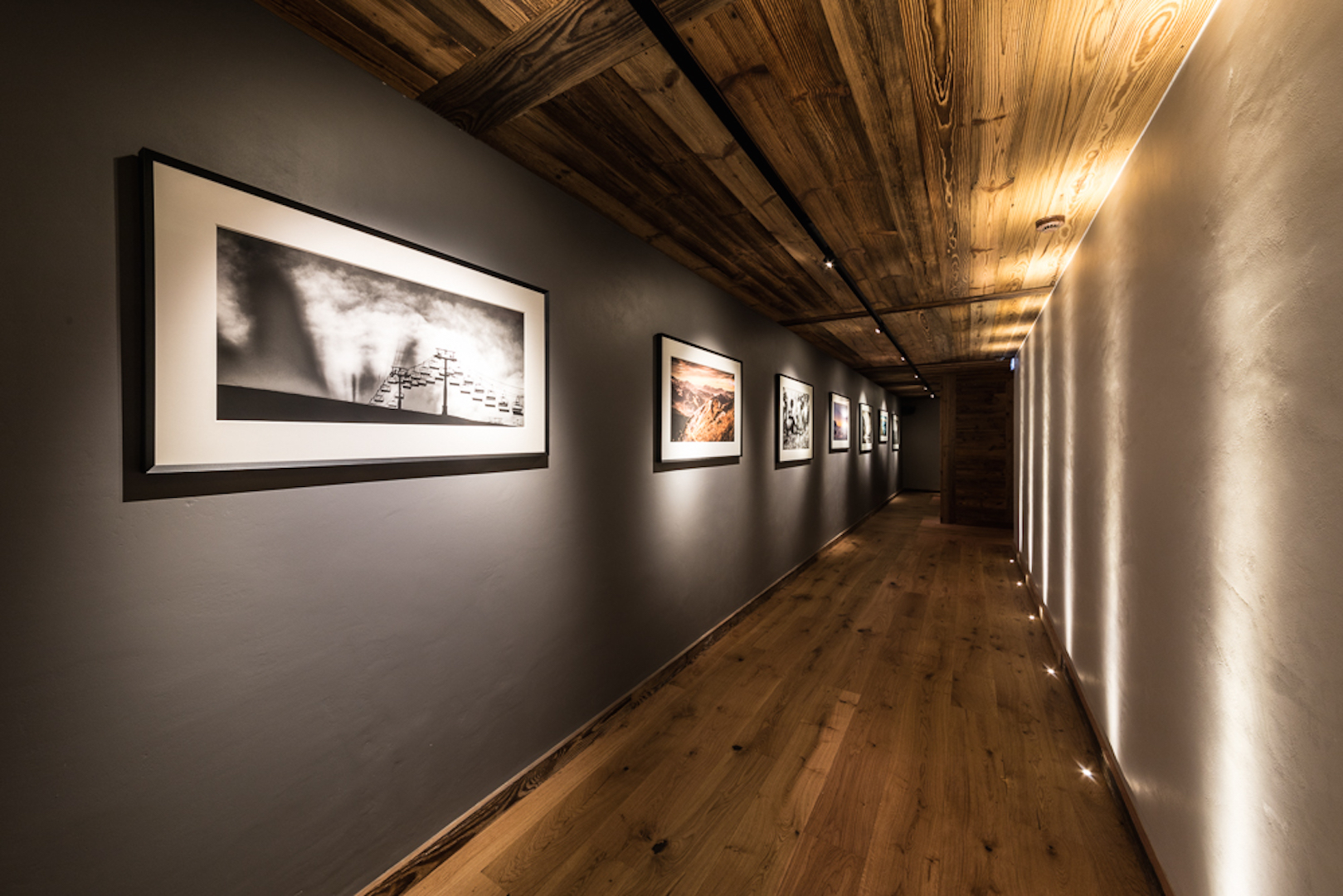 I was therefore able to also collaborate with Gio Fleming, Kate Spooner and Damian McArthur as well as with Neil, to commission images and create a space where their talents, and the beauty of the Alps could be showcased. It remains one of my favourite rooms in one of my favourite projects, and it is all due to the skill, creativity, determination and magical talents of my friends – chapeau all of you.